Fly it once and you'll never be able to put it down!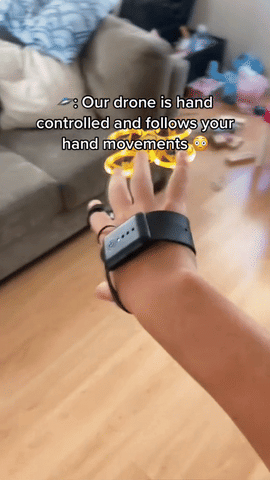 Technology has finally caught up. You can now fly an infrared obstical avoidance drone with the palm of your hand, and do tricks too!
It turns out that more simple equals more fun. When you don't have to worry about learning complex finger controls, flying the drone becomes addicting.
We guarantee that once you slide your hand into the watch and make your first flight, there will be no going back!
It automatically avoids obstacles so you can focus on having fun!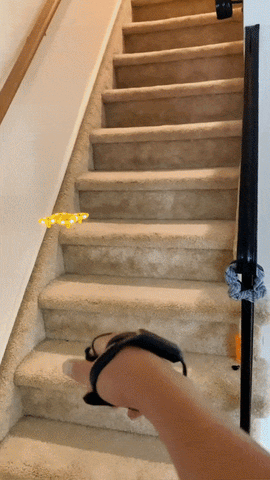 ✔️Easy peasy – Flying the drone is a piece of cake, you'll pick it up in seconds. Then you can focus on doing the coolest tricks!
✔️Obstacle avoidance – The built in infrared technology lets the drone automatically steer clear of any objects in its path.
✔️Long range – You can fly it up to 240 feet away from you before the remote cuts out! 
✔️Low power protection – It lands itself safely when its running out of battery so you don't have to worry about crash landing it.
✔️TRICKS!! – There's so much you can do with the knight™. From flips to 360's the sky is the limit!
 What customers have to say 
"I have 4 different drones so far and this one is my favorite!!! It uses a remote which attach to my hand to control. Once I got used to it, it's sooo much easier to fly a drone by hand movement than using a remote control."
 Will M. ⭐⭐⭐⭐⭐
"Very fun toy. It needs some practice to get familiar with the controls. Once you learned the tricks, just have fun!"
"Love how it's got lights so you can follow it at night. And it's so much easier to get used to than those drones with remotes. I like this much better! Definitely get one."
Susan C. ⭐⭐⭐⭐⭐
Specifications
Details
Range: 240 feet
Material: Plastic
What comes in the box:
Batteries
Remote control watch
Extra propellers
Charging cables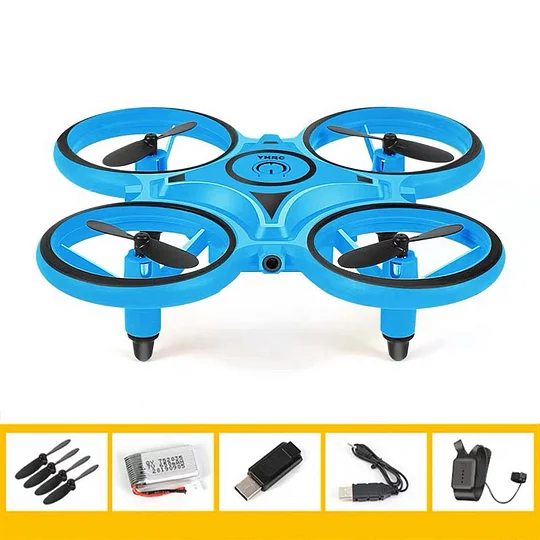 Frequently Asked Questions 
Q: How does it work? 
A: Turn the drone and controller on, slide your wrist into the controller, and fly! Refer to the product images for instructions on how to fly it.
Q: Is it waterproof?
A: Nope! We'd avoid flying it in the rain or over water.
Q: How big is it?
A: About 17 x 17 x 4cm!
Q: How long does the battery last?
A: You can get 7 straight minutes of consectutive flying before needing to recharge it;)
Grand Opening Sale – 50% off until 11:59 PM tonight. Order now before it's full price!