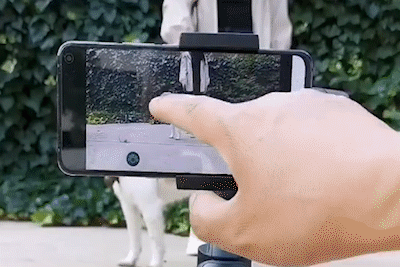 The 3D Smart Bluetooth Handheld Smooth Gimbal is the first innovative, integrated premium selfie stick tripod in the world. Just take it on the go to enjoy selfies or take group photos.
It can hold a heavy phone without wobbling or tilting. It is the lightest, most exquisite, and stable selfie stick tripod with non-slip footing. 
Compact selfie stick with detachable wireless remote captures great moments with friends and family.
Quickly pairs with Bluetooth devices without the need for a timer on your phone or messy wires. Completely rotatable for any angle that you wish to record video or take photos.
REMOVABLE BLUETOOTH REMOTE
Buy 3D Smart Bluetooth Handheld SmoothGimbal Stabilizer and easily take selfies or family photos with the click of a button! The Removable Remote allows you to take the picture without touching the button on the phone. No more arms in the picture! The included 65mAh rechargeable battery can capture up to 50000 selfies.
360 Degree Rotation

The 3D Smart Bluetooth Handheld SmoothGimbal Selfie stick allows you to take pictures in angle chosen. Perfect to include everyone in the photo.
LIGHTWEIGHT AND PORTABLE
The 3D Smart Bluetooth Handheld SmoothGimbal Stabilizer is lightweight, portable, and compatible with many devices. It even fits in your pocket!
RUBBER GRIP FOOTPAD FOR NON-SLIP USE
The 3D Smart Bluetooth Handheld Smooth Gimbal has non-slip foot pads to prevent slipping while taking photos. No need to worry about wobbling!
FEATURES BLUETOOTH HANDHELD GIMBAL:
Versatile 3 in 1: More than your usual selfie stick, the BS3 is a versatile mini tripod, tabletop tripod, and selfie stick.

Removable Bluetooth Remote Controller:

 You can separate the controller from the stick and enjoy portable shutter control. Set up the tripod, slide out the controller and you can snap selfies at a distance. The BlueTooth Remote Control is easy to pair and operate, all you need to do is pair to your phone and press the button to capture a shot. The included 65mAh rechargeable battery can capture up to 50000 selfies.

Full 360 Degree Rotation:

 The head of the selfie stick can rotate a full 360 degrees for capturing the perfect shot. The clamp can also be rotated up to 203 degrees.

Wide Compatibility:

 We built the BS3 to fit almost every device with a 3.5 – 6-inch screen and the remote control requires no extra APP.

Light and Stable:

 Built with aluminum alloy and rubber, the BS3 is lightweight and holds steady in your hands. The tripod stand also has added rubber support for extra stability.
18-Month Warranty: We believe in our products and we back them all with an 18 months warranty. We are also dedicated to providing friendly support and assistance.
SPECIFICATIONS:
Model = BW-BS3
Weight = 148g
Maximum Length = 600mm
Cradle Diameter = Fits most 3.5-6 inch smartphones
Cradle Rotation = 203 vertical, 360 horizontal
Shutter control = Bluetooth remote
Bluetooth = 3.0
Dimensions = 46mm x 198mm x 27mm


PACKAGE INCLUDES:
1 *  3D Smart Bluetooth Handheld Smooth Gimbal
1 *  Micro USB Charging Cable
1 *  Warranty Card
1 *  User manual
The cradle head stabilizer accessories, mobile phone, motion camera can be easily used, compatible with motion camera accessories. The package includes tripod + Bluetooth selfie, Compatible with Android and IOS, 360° rotation.