Glass dispenser saves you a sticky mess. Its center spout dispenses honey and syrup neatly. Just hold over food and press the lever.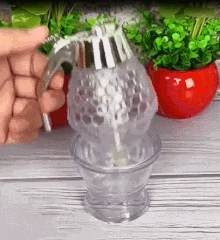 Main Feature
No-Drip Glass Dispenser — Stops those messy honey leaks while making your honey immediately available. Use it with sugar, maple syrup, chocolate syrup. No waiting and shaking the container to get your favorite sauce flowing. Simply press the release on the handle and it instantly flows out the bottom. Let go of the release and it immediately stops with no drips or messy trails.
Full Glass Container – Shaped into a fun, attractive honeycomb design. This material is light yet strong and durable. Fill the dispenser with honey or similar liquids. Twist on the cap then push the center piece. It will start to flow out the bottom. Let go of the center piece and the liquid stops flowing. This gravity fed system is the ultimate way to have your favorite sauce ready to go.
Honey Jar keeps Honey Fresh – Our honey dispenser comes with its very own bottom stopper, keeping your honey server airtight, acting as a beautiful bee decor. Use this to put honey in tea, syrup dispenser on pancakes, and even in coffee, without your honey getting clumpy.
Perfect Server – Holds 1 cup (8 Ounces) of honey, maple syrup, chocolate syrup, sugar (yes a sugar dispenser) or any liquid you want (just make sure it's not too thick)
A Smart Gift Everyone will Love – Make someone's life a little sweeter. Offer this lovely honey pot to members of your family, friends, or coworkers as a thoughtful and useful christmas present!
How to Fill:
Remove lid and pour honey or syrup into the glass dispenser.
Place the dispenser on a flat surface, like a plate or saucer, as you fill it. This will help catch any honey or syrup that drips out of the bottom while filling.
Promptly secure lid, keeping it over the plate or saucer.
Once the lid is back in place, the stopper will keep the honey from dripping out.
Just push the top trigger when you're ready to add honey or syrup to your food.
Some benefits of Honey:
A good source of antioxidants
Antibacterial and antifungal properties
Heal wounds
Phytonutrient powerhouse
Help for digestive issues
Soothe a sore throat
Product Specifications
Material: Acrylic
Weight: 240g
Capacity: 200ml (6.7 oz)
Package Size: 15.8*9*8.8cm
PACKAGE INCLUDES:
Honey Syrup Dispenser x 1