SICK OF WASTING TIME AND MONEY IN THE NAIL SALON? 
Going to the nail salon every 2 to 4 weeks costs you valuable time and money every time… Glued-on nails always fall off and break quickly….
With Purely Polished™ you can now get beautiful nails quickly from teh comfort of your own home. And the best part? You only pay once!

With this kit you can easily shape and lengthen your nails at home. You shape the gel to the size of your nail and place it on your nail bed. Fill in the desired length with a brush and let it dry for 2 minutes. Use the UV lamp to make it dry extra fast! Then file it into the desired shape and use a top coat for extra shine or matting!
LONG OR SHORT, EVERYTHING IS POSSIBLE
Luckily, it can all be done much cheaper, faster and exactly the way you want it. Meet our Purely Polished: the best way to bring the perfect nail salon to your home.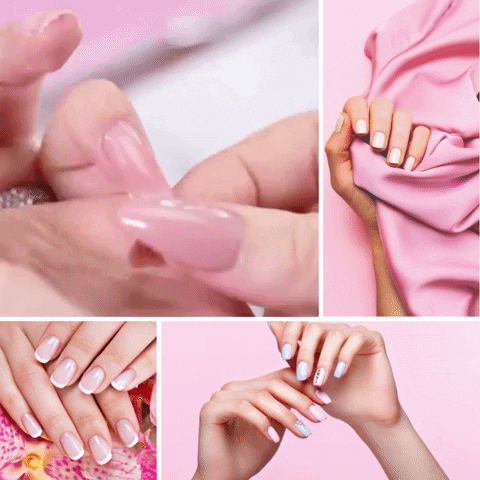 NOW YOU CAN SAVE MONEY WITH YOUR OWN NAIL SALON!
🔥 The Purely Polished is extremely VIRAL at the moment. Everyone wants it, but it's often sold out! 🔥
WHAT DO CUSTOMERS LIKE ABOUT THE PURELY POLISHED?
This kit is the complete package for your own home salon.
It even includes a UV lamp, unlike any other kit you'll find online.
Quick and easy to use, lasts up to 4 weeks.
Free from toxins and chemical smells, meaning completely drama free!
Fully adjustable once the nails are placed
The polygel is from Née Jolie. Née Jolie is known for its excellent quality. We are therefore very proud to be able to offer products from this brand.
WHAT IS INCLUDED?
7 different polygel colours
Primer and top coat for the optimal finish
Lubricant after the base coat has cured
UV lamp for optimal curing of the nails
Reusable twin moulds for the perfect nail shape.
Nail clip to shape the polygel correctly
Brush and mini spatula to spread the polygel
Nail file