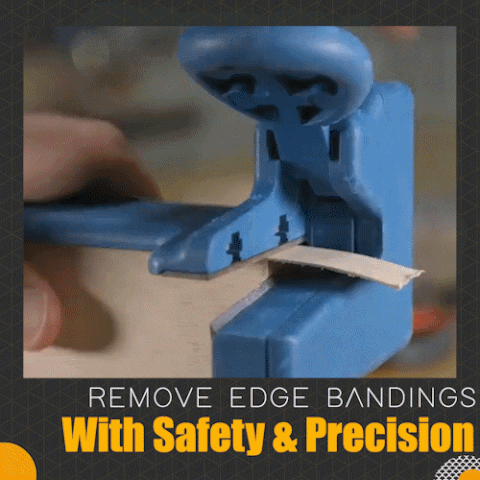 — The wood trimming buddy is made of high quality PVC material ,solid and not easy to aging, non-slip top surface is easy to operate and durable to use.
— The manual trimming machine comes with two sets of blades, The blade is made of alloy steel, hard and wear-resisting, and can be used for long time.
— Applicable to a variety of materials, such as flexible melamine paper, wood, veneer, plastic, PVC etc. Fit For below Width Range 15-40mm and Thickness 0.5mm.
— Wide suitable for panel type furniture, cabinet making, decoration and other industries, really an essential tool for woodworking.
PRODUCT DESCRIPTION
The main body is made of PVC material, which is strong and not easy to age, and the surface is anti-slip and easy to operate. Mainly used for decoration with melamine paper, veneer, plastic, wood, synthetic board, PVC and other materials made of edge sealing. Fit for edge banding thickness below 0.5mm, width between 15-40mm. With two sets of blades, one original, one replacement, durable. Easy to operate, wide range of applications, widely used in panel furniture, cabinet manufacturing, decoration and other industries, an essential tool for woodworking.
Please check the appearance, size, shape of this item in our picture seriously, maybe some difference on the color as the light during shooting.
Features:
The sharp manganese steel blade allows you to trim the edge of the board more easily.
The nylon injection-molded shell has a non-slip design, heat-resistant and wear-resistant, and durable.
We provide spare blades for easy replacement. Used for widths under 0.5 mm and 15-40 mm.
The ergonomic design and built-in spring ensure that the plate is not damaged and the trimming height is adjusted.
It can be applied to a variety of materials and is also an indispensable tool for woodworking.

Specifications
Item name: Edge Banding Trimmer、Equalizer tool
Color: Blue
Material: Fierce Steel Blades + New Nylon Casings
Item Size: 101 mm x 48 mm / 3.98" x 1.89" (L x W)
Item Height: 45 mm – 60 mm / 1.77" – 2.36"
Adjustable Thickness: 15 mm – 40 mm / 0.59" – 1.57"
Item Weight: 96g / 0.21lb
Package Dimensions: 6.4 cm x 5.4 cm x 10.4 cm / 2.51" x 2.12" x 4.09"