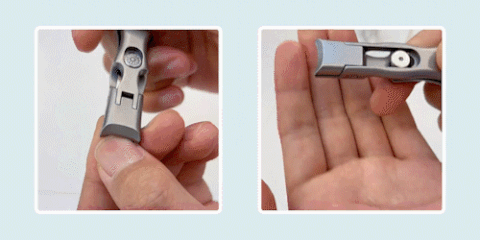 ANTI SPLASH DESIGN
This nail clipper is built with big size mouth and anti splash design for non-messy nail cutting. Easily dispose clipped nails! Suitable for thick fingernails and toenails.
CURVED EDGE
The stainless-steel blades with double curved edges are very sharp on this nail tool. The strong concave wide jaw allows trimming with precision for smooth and clean nails. Works great especially at hard nails for man and elderly.
ERGONOMIC HANDLE
Its perfect wide wing and non-slip handle is reinforced for extra strength and it is very comfortable to use no matter how you clip thick nails.
PORTABLE & SAFE TO USE
The anti splash nail clippers is specially made for professional settings such as nail. It comes with a leather pouch so you can carry anywhere you go, safe for young adults, men, women, seniors, athletes.

Material: Stainless Steel
Size: 1.6 cm x 9 cm
Color: Silver / Black

1 x Auto Lock Portable Anti Splash Nail Clipper