🎅Christmas Sale
Swiveling Cheese Board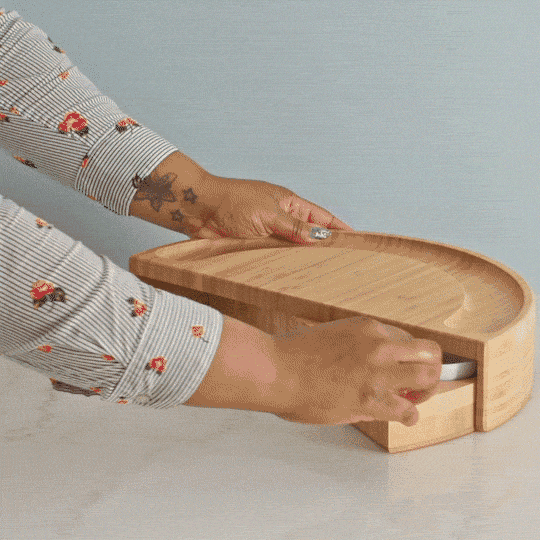 Maximum spread with minimal footprint: That's what every good entertainer craves. This collapsible cheese board delivers. With special sockets for ceramic serving bowls, a groove that keeps your favorite crackers contained, and a secret drawer stocked with three cheese knives, this bamboo hosting hack helps make crudités and savory goodies look irresistible. The best part? It folds down to half its size, so it's easy to stow in your cupboard, too.
(If you're wondering about the bowls, they fit inside.) Fruits, olives, chocolate-covered almonds… this thing accommodates them all. Now we're hungry. Designed in California. Made in USA. Made from ceramic, stainless steel, bamboo Measurements 15″ W x 8.5″ D x 3″ H (closed), 15″ Diameter x 3″ H (open) Care Handwash and dry bamboo board & cheese tools, do not soak. Ceramic bowls are dishwasher safe.
STORES as a COMPACT WEDGE – Swivels Open to an 18″ Diameter, Tiered Serving Board for cheese & Appetizers
INTEGRATED DRAWER with 3 piece Knife set – Includes 4 Cheese Markers
A GREAT GIFT IDEA – Surprise Your Friends and Family and Offer them a Stylish Way to Enjoy their Favorite Cheeses & Appetizers – Makes an Incredible Housewarming, Engagement, Wedding, Anniversary, Retirement, Birthday, Christmas, Holiday, or Hostess Gift!
Precautions
Tapas BoardBamboo Serving Piece.
Folding Board Design.
Ceramic bowls are dishwasher safe.
Handwash and dry bamboo board & cheese tools, do not soak.
SPECIFICATIONS
Material: 

Bamboo

Dimensions: Open: 15″ Dia x 3.5″H
Closed: 15″ x 8.5″ x 3.5″ Individual box 10″ x 17″ x 5″
Weight: 1850g