Mandibular joint trainer series provides a unique workout that slims, tones, tightens, or strengthens your face, neck, and jaw!
Can be used the second you take it out of the package. Simply unbox, attach the lanyard, pop it in and start chomping! The built-in bite strips are easy to grip and fit flush in your mouth.
Within seconds you'll feel the 57+ muscles in your face, neck, and jaw all being activated.
REDEFINE YOUR JAWLINE
UNLOCK YOUR PRIMAL BITE 
We all want to look and feel strong and more confident. let's you get that look and confidence naturally.
You'll be amazed at how quickly you feel it start working!
The result? An all-natural, chiseled look that shows off your best features in less than 5 minutes.
The ONLY Natural Way To Chisel Your Jawline
A FEW REPS A DAY KEEPS THE DOUBLE CHIN AWAY!
By targeting the primary chewing muscles known as the Masseter Muscle,actives and strengthens areas of the neck and face that are rarely exercised. Leaving our faces rounded.
Easily works for anyone trying to get that chiseled look
GET A FULL FACIAL WORKOUT IN JUST A FEW MINUTES!
Whether you want to slim, tone, or tighten. It easy to get the look you've always wanted.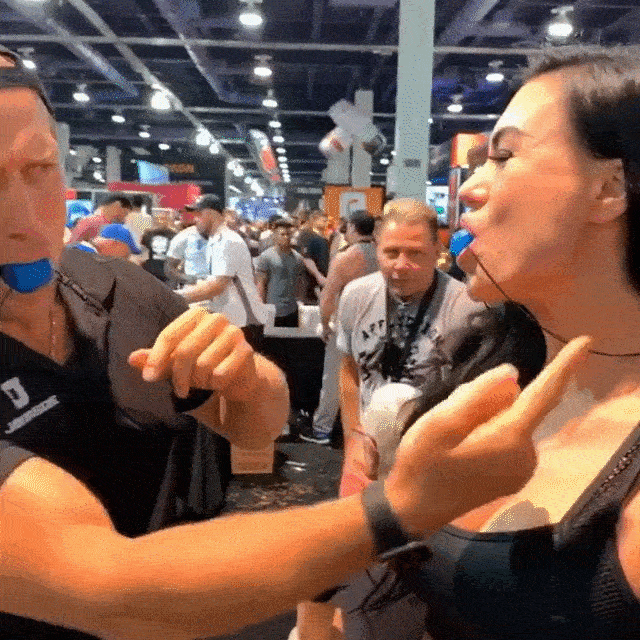 SPECIFICATIONS
Product material: silicone + TPU tough
Product color: blue red
Product size: large 3.8*3.5*3cm (50 degrees) 50g
Small 3*2.5*2.5cm (50 degrees) 21g
Lanyard length 75CM